What is a fee-only, independent advice and why does it matter?

By Chelsea Traver at Evergreen Advice
"If you're not paying for the product, then you are the product"
When looking to hire an investment adviser it's important to know if they will be getting paid by someone other than you. Adviser salaries don't always line up with doing what's best for their clients. In this article, we expand on how advisers get paid, the benefits of working with a fee-only, independent firm, and why we at Evergreen Advice knew we wanted to be a fee-only practice.
How advisers get paid
You might be surprised at the many ways an adviser gets paid. These can be broken down into a few main categories:
A fee charged directly by the adviser to the client for the advice or management of their assets. If a firm is fee-only this is the sole way they get paid for managing clients' money.
A commission paid by the investment provider to the adviser when they invest their clients into the provider's products.
Fees paid on transactions by the client to the adviser, also known as a brokerage fee.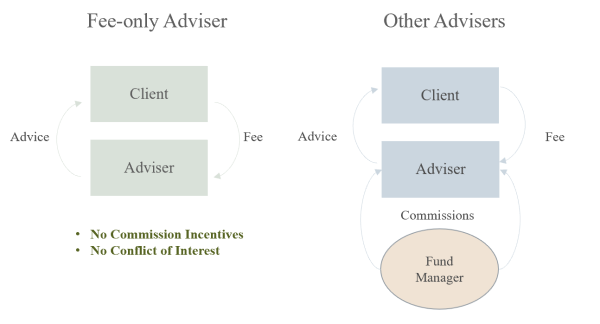 The benefits of working with a fee-only, independent investment advisor
Fee-only, independent investment advisers are about your interests and only your interests. They get paid solely by clients and aren't tied to any specific provider so they can focus on recommending the most appropriate solution for your situation. Because of this, clients can be more confident their adviser will select the most appropriate investment options for them and only transact when necessary, rather than having an incentive to use a certain fund or trade unnecessarily to earn a higher salary.
Most advisers I've come across want to do right by their clients. However, there is an inherent conflict of interest when someone other than the client is paying them. This was also a key finding in the Australian Royal Banking Commission into financial services which led to Commissioner Hayne recommending no conflicted remuneration such as trail commissions - they have since been banned in Australia. Hayne said, "Experience shows that conflicts between duty (to client) and (self) interest can seldom be managed; self-interest will almost always trump duty." Mary Holm, NZ's most trusted personal finance journalist, also strongly recommends only working with advisers who are paid by you. She writes "if, instead, the adviser is paid by commission from a provider of financial products, they will be incentivised to receive the highest commission, rather than putting you in products that are best for you."
What about getting financial advice from a bank, or KiwiSaver provider? While these advisers don't get a commission per se, they are often limited in the investment options they can offer, which tend to be investment solutions manufactured by the company itself. The bank or KiwiSaver provider has a strong incentive to recommend their own products. Similarly, an adviser who receives brokerage fees on transactions is financially incentivised to trade your portfolio, potentially incurring additional, unnecessary costs.
We started Evergreen Advice because we firmly believe that fee-only, independent advice is the best way to make sure our clients are at the heart of what we do. We don't have our own products; we make sure the fees we charge are clear and transparent; and we don't accept commissions.
Where to find the fee facts
The good news for prospective clients who want to know how an adviser gets paid is that all advisers are required to provide a disclosure statement(s) with sections on fees and conflicts of interest.
What does this mean for you?
If you receive financial advice, you should know both what you are paying AND how your adviser gets paid. This means getting all fees laid out transparently, ideally in dollars and percentages. Fees might include:
Ongoing fees
- Advice and management fee - for the adviser
- Administration fee – for platform/custodial services
- Underlying fund manager fees (including any commission) - for the company making the individual investment decisions. You generally won't see these coming out of your account so it's important to ask.
One-off fees
- Initial planning fee - paid to the adviser for the initial investment plan
- Transaction fees (including any brokerage) - for the adviser, broker or fund provider to buy/sell
By working with a fee-only, independent adviser who isn't incentivised to sell you a particular investment product, including their own, you know that the investment selections were made with your goals in mind, rather than their own pocketbook.