Sustainable investing
15 Dec 2022
Our Climate Action Plan


By Mike Ross and Chelsea Traver
We founded Evergreen Advice with the purpose to invest for a better future - for our clients and for the world we live in. To do this with the greatest impact, we ensure sustainability is the focus of every endeavour at Evergreen Advice - from how we align our investments to our business operations and our personal actions.
These will be detailed in our Sustainable Business Plan, a living document that will act as Evergreen's North Star, our operating guardrails and our scoresheet of success in relation to sustainability. Ultimately our goal is to provide transparency about our business and offer insights and tools that people can use in their own business or personal lives.
For Evergreen, 2023 will be our baseline year. Each year thereafter we'll deliver a Sustainability Report to track our progress in these categories and future targets.
We're beginning this journey with an integral first chapter: our Climate Action Plan.
Investment Strategies: Measure and reduce
Climate change considerations are an important part of our investment philosophy. This is for reasons of investment risk as well as client preferences and values. To incorporate climate measures we ensure recommend all portfolios:
Exclude fossil fuel producers
Target low emissions
Our standard SRI (Socially Responsible Investment) portfolios have less than half the emissions of the comparable market benchmark. One of the first questions we ask fund managers is what their fossil fuel policy is and whether they report on their carbon emissions. Currently, over 70% of the equity funds in our SRI portfolio report their carbon emissions quarterly. Our aim is for 100% of all funds to report and for them to show measurable drops in their carbon emissions where possible.
Deep Green
After much research and analysis, we recently created a 'Deep Green' portfolio. This portfolio aims to go further than our SRI portfolios by producing an even lower carbon footprint, and by investing more heavily in renewable energy and climate solutions, including impact type investments.

A requirement for a fund to be in the Deep Green portfolio is that it provides a report on its carbon intensity (or plans to provide these figures in the near future). As an example, this graphic shows the carbon footprint over time, comparing a fund in our Deep Green portfolio to a market benchmark.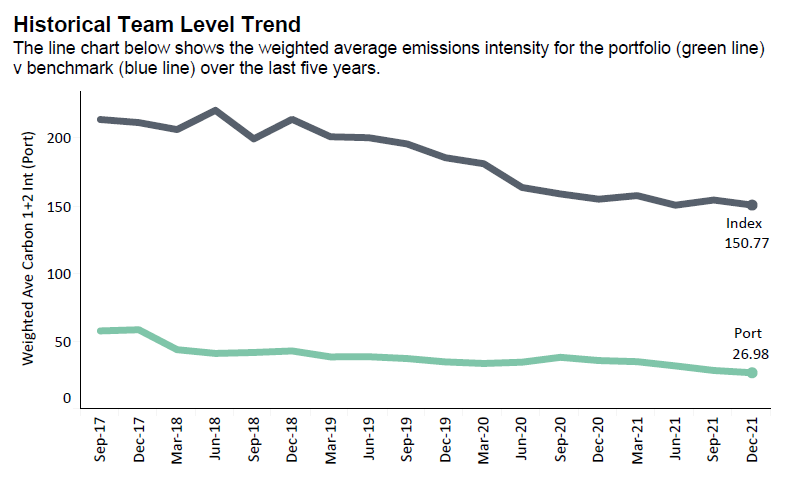 Moving forward, we will be focusing on businesses and funds that are successfully reducing their carbon footprints and businesses developing technologies to help fight the climate crisis. We will also look to provide more thorough portfolio-level reporting on investment emissions and strategies.
If you would like to know more about our investment options please reach out to us directly.
Measure personal and business emissions
There are a range of options available to businesses and individuals to measure their carbon footprint.
Business Operations: Measure and Reduce
Measure
We used carbonclick to estimate our carbon emissions for the 2022 year.

Reduce
Our largest contributors
As a service business, fossil-fuelled transport is our biggest emitter. These are predominantly from:
Flights and car journeys to visit clients and attend conferences
Employee commutes
The most impactful way of lowering our emissions is to limit flights and car journeys. With this in mind, we've committed to minimising carbon-intensive journeys, using digital communication and commuting on public transport (Chelsea) and on e-bike (Mike) whenever possible.
Personal Emissions: Measure and Reduce
As the business owners of Evergreen Advice, we are committed to reducing our own emissions. We have used FutureFit (graphical output shown below) to track these and over the next year we are targeting a decrease in our personal carbon footprints. The FutureFit tool provides plenty of options and these are the ones we believe will have the greatest impact:
Flying less
Driving less (or driving an electric car)
Eating less red meat and consuming less dairy
Using less power or installing solar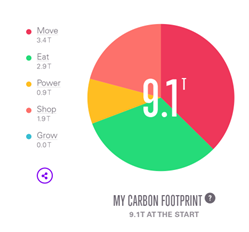 Offset
Our goal is to reduce our carbon footprint within our investment portfolios, our business operations and our personal emissions. However, we can only go so far in reducing our emissions. To compensate, we will offset our company and personal emissions using high-quality, certified offsets. We will also offer our clients access to these offset opportunities if they want to counterbalance their own carbon footprints.
This article from Toitu thoroughly explains what carbon credits are, how they work, and the difference in quality of carbon credits.
It's important to us that we're using credits that have benefits for the local communities or environments they're sourced from. Here are two that we're particularly passionate about:
Cooking stoves in third world countries: This project supplies efficient cookstoves to families that have traditionally used open fire methods. The efficient cookstoves mean the family don't have to gather fuel for the fires and are no longer exposed to the air pollution from the open fire method. The installation of these cookstoves contributes to the development of clean and affordable energy access, while also supporting poverty action, gender equality, public health and wellbeing, climate action, and overall sustainable development.
NZ native reforestation: Projects like these are designed to return the land to the state it was in before settlers arrived. These woods not only have positive impacts on flora and fauna but also benefit the surrounding land and water region.
To ensure we are treating the environment well we rounded up our business and personal carbon emissions and divided our offsets between the two projects mentioned above.
Actions
What are words without action? Here is a summary of the actions we have taken on our journey so far:
Ensured all funds that we recommend have removed fossil fuel producers.
Ensured all portfolios that we recommend have a low carbon target.
Lobbied our fund managers to report their carbon usage. For those that do not provide it, we are in discussions and will consider replacing them in the future.
Estimated our business and personal carbon emissions.
Used this estimate to offset our emissions from when Evergreen Advice began in 2021.
This is just the beginning of our evolving Climate Action Plan and we aim to provide transparent, measurable progress updates at every stage.
In 2023, we'll build out the environmental and social sections of our Sustainable Business Plan, gather data to deliver our first Sustainability Report, and ensure this information is accessible to clients, suppliers and any business who'd like to reduce their emissions or develop their own plan or report.
Other Sustainability Resources
The following New Zealand websites (mainly collated by Toitu) are packed with information, resources, ideas and practical actions on energy savings, home design, energy-saving appliances, renewable-energy options and more.