Market Updates
15 Nov 2021
Market Update October 2021

By Mike Ross at Evergreen Advice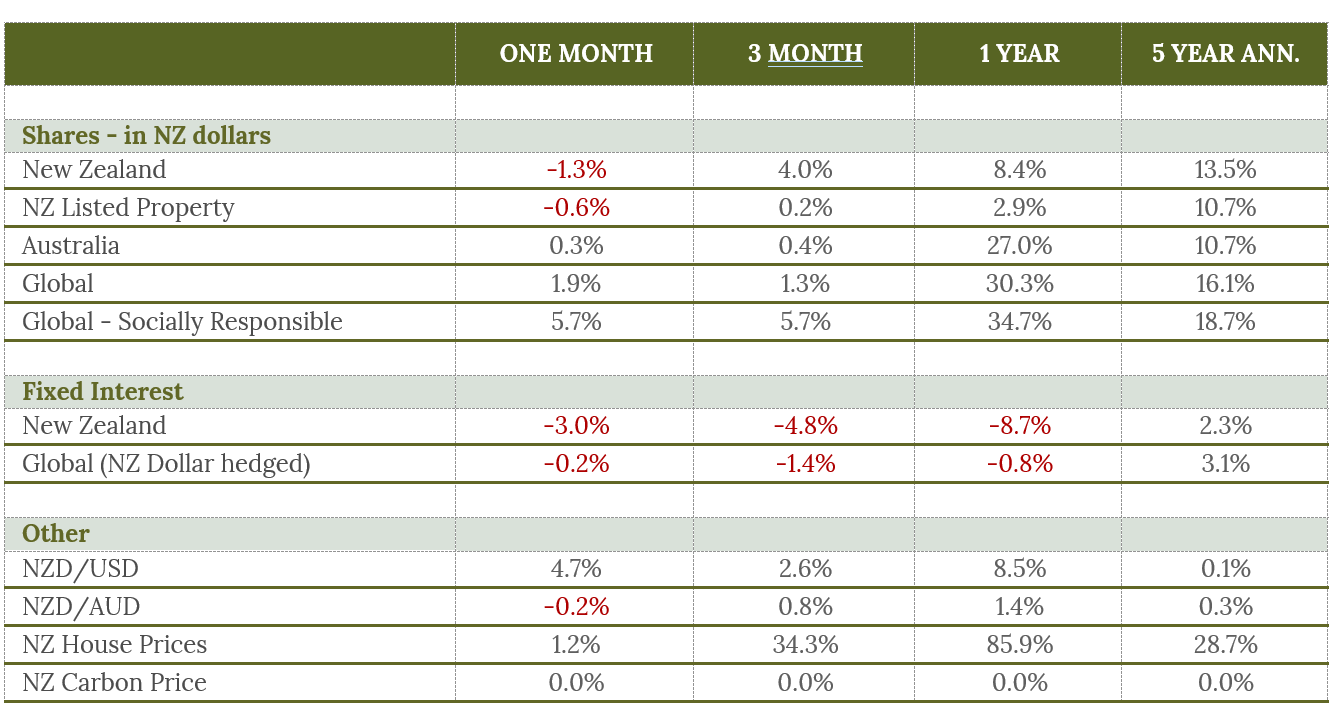 Global
Global share markets recovered strongly in October following their fall in September. The key catalyst of the rebound was strong US earnings announcements. More than 80% of companies have beaten earnings estimates, with results on average almost 10% higher than forecasted. The stand-out performer was Tesla which rose 44% during the month, becoming the sixth company in US history to be valued at more than $1 trillion. For the month global shares returned 5%, though (unhedged) returns for New Zealand investors were muted by a strengthening New Zealand dollar.
New Zealand
During the month the Reserve Bank of New Zealand (RBNZ) raised the official cash rate from 0.25% to 0.50%, and continued evidence of inflationary pressures in the New Zealand economy pushed up longer term interest rates. The New Zealand 10-year government bond increased to 2.63%, up 0.54% for the month, and up more than 2% from its lows a year ago. The rise in interest rates has been painful for fixed interest investors (as bond values fall when interest rates go up). For the month, the NZ bond index returned -3.0% and has fallen -8.7% over the past 12 months, with returns even worse when you account for inflation. This is a useful reminder that all investments, even those viewed as safe, come with some risks and will have periods of poor performance. The positive news for fixed interest investors is that new bond issues now offer a more attractive yield and hence income, than they have been able to earn in the past few years.
The NZ share market and listed property index, both of which are sensitive to interest rates, suffered small declines on the month.