Market Updates
5 Sep 2021
Market Update August 2021

By Mike Ross at Evergreen Advice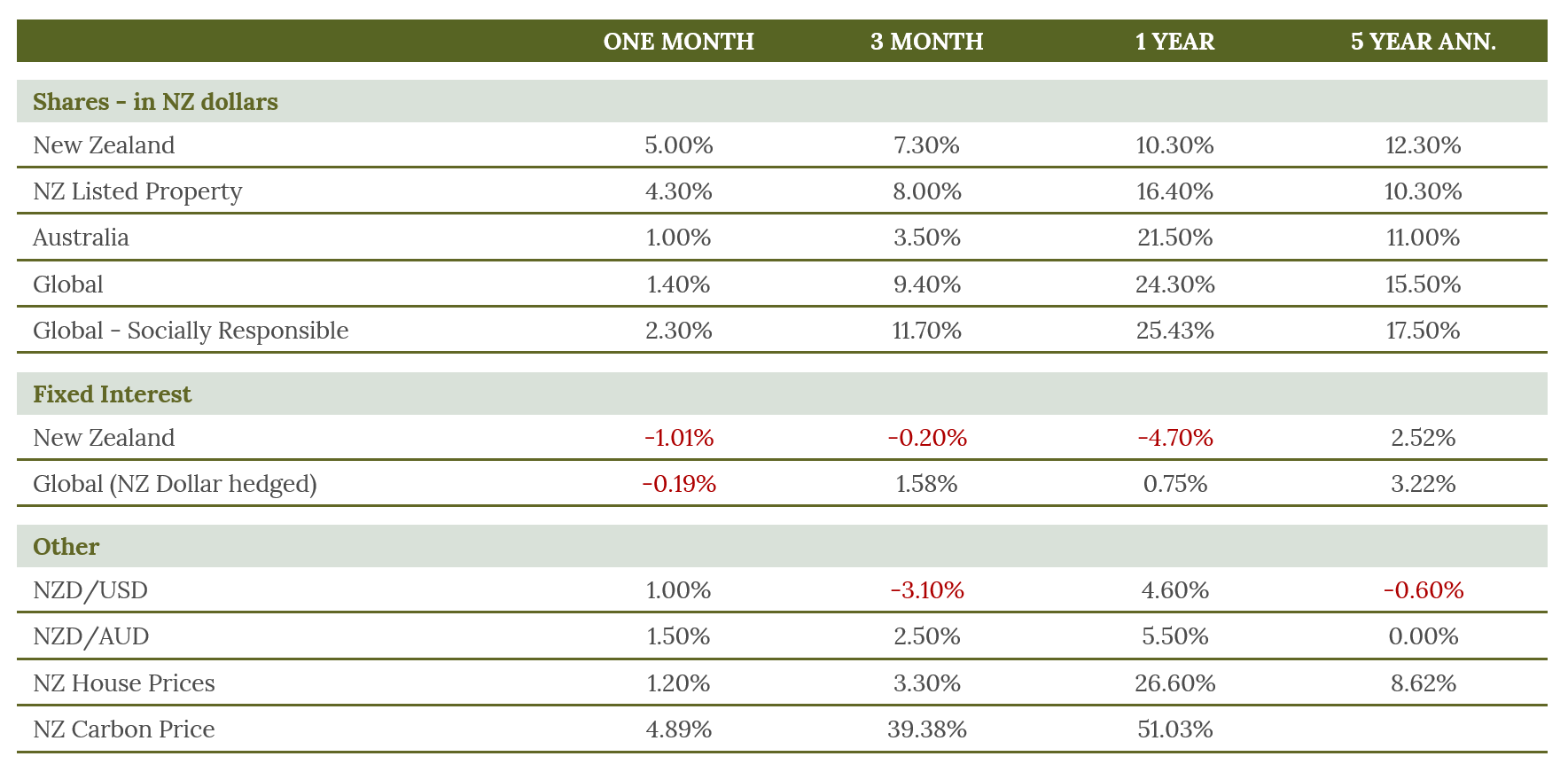 August was a surprisingly strong month for the New Zealand share market as investors disregarded the level 4 lockdown, instead concentrating on the strong results delivered by many of the major companies in the market. For the month, the NZX50 returned 5.0% with key contributions coming from Mainfreight (+14.6%), Ryman Healthcare (+17.5%), and Ebos (+15.9%). Z Energy (+19.0%) was also a stand-out performer as it received a takeover bid from Australian petrol company Ampol. Despite the strong month, the NZ market still lags behind international markets year-to-date as it has been held back by rising interest rates (which have a negative impact on yielding stocks in the market) and by the relatively poor share price performance from some of our largest companies, Fisher & Paykel Healthcare and A2 Milk.
Global markets had a solid month, delivering a return of 2.5% (in US dollar terms), though this was partially offset for local investors by a strengthening NZ dollar. US stocks performed particularly well, driven by strong company earnings results. Emerging markets were also positive though continue to be adversely affected by the Chinese market where increased regulation has had a negative effect on technology and education stocks. Looking back over the past 12 months, global markets have delivered returns of 25% as economies have gradually reopened.
Returns on bonds were negative for the month as interest rates rose. This was despite the NZ Reserve Bank deciding not to increase the official cash rate (OCR) in August following the Covid-19 outbreak. However, the Bank clearly signalled that they will be increasing the OCR in coming months. The last year has been a challenging time to be a bond investor as interest rates have risen from their historic lows in 2020.